some impressions, about this tiny piece of arab land, along the Persian Gulf, and lots more...
Thursday, August 22, 2013
Pune, a visit after a gap of two years. Changes, yet, familiarly unchanged. It was gladdening to weave through the once-familiar roads and haunts, and memories flashing by. And the best part was catching up with friends. Precious friends, untouched by distance or time. Realised how true the adage that goes, some leave footprints in our lives, never to be erased.
The usual rounds of shopping, (and yes have to concede that Pune's fashion sense is awesome!) got tad boring, and so went for a small drive and up the hill, to the
Murugan
temple. The drive along the Bombay-Pune highway was again suffused with memories, and the fresh, green trees and foliage, which followed us all along was a beautiful sight, to be etched and relived in the desert land.
Goa in the monsoons, well, enough has been said I guess. It was a leisurely holiday at home with family, and a short break at the resort. Love the place, and enjoy the walks and cycle rides immensely.
Went to this 'Saptaha mela\ at Vasco, and it was fun. The bustling crowd, the quaint little wares spread out, the entire scene was very endearing. And the lunch at a small but popular joint I gathered, was amazing. The 'fish-thali' was finger-licking good, and vowed to make this place a regular, next time around, and ofcourse the solkadi was the icing on the top. Loved the spread. Lazily walking back, in the drizzling rain, was a wonderful way to wind up the holiday, gratified.
As an old proverb goes, 'He who returns from a journey is not the same as he who left', and so it seems. Feel filled, enriched and blessed.
The much awaited vacation did eventually come, and now it's as good as done and over with. Just a few more days of indulgence, with scoops of lethargy and gluttony thrown in for good measure. Am not complaining. The very thought of back-to-the-grind scene looming large, seems to instil a sense of despair -
the eventuality. But then yes, the grind keeps us going, and definitely look forward to meeting and catching up with dear old friends. Still, nothing like the seamlessly endless days, with no early-morning alarms, crushing deadlines, cramming-in-breakfasts and the forever persisting thoughts of 'isn't the day over yet?!' or the equally maddening 'The day is done?!' So savouring each hour of the tail end of this summer.
The best part of the July-August period is the pleasant weather, be it in South or the West. Trichy I would think is at its best, with the 'Aadi Kaatru' (the winds accompanying the month of Aadi) gently whirling around, rustling up the leaves and swaying the branches. It never did get too rough, which usually heralds the downpour. And so there was no drizzling or showering or pouring. It was not to be. But had a wonderful climb up the famed 'Malai kottail', the Rockfort, with family. The skyline seems to change each time around, save the serpentine Kaveri, which sadly looked desolate and barren, as if stripped off its right and might. Yes, just not fair, holding back a colossal, throbbing, gushing life-source, curbing it, impeding its journey, towards its pre-ordained destination. Well, enough said, at least here.
The trip to Thiruvanai kovil, with a close college mate, was memorable too. Walking through the crowded precincts of the Sattram Bus stand, hopping in and out of the local buses, and catching up, was an amazing walk down memory lane, and seemed to reiterate the truth that some things never change, and aren't we glad for it.
The wedding in Madurai, was so interesting and exciting! Attending a close family occasion after a long gap, felt good, meeting (almost)all cousins, and checking out the latest in saris and jewellery, of which i was never, ever an authority. And I seemed to have just skipped a decade (thankfully!), in the fashion realm, and realised, even if you've been outside the current, you can sidle in any time, with a few right moves. The trip to Meenakshi Amman Temple was sobering, after the glitz and glitter. Was filled with a sense of calm and tranquil. A sense of being in the right place, a place where you will always belong, wherever you've been.
And this was followed up by a quick trip down South, (covering Kovilpatti, Tirunelvelli, Kallidaikurichi and Rajapalayam) which never fails to drench me with memories, and gladdens the heart, to be with aunts and uncles who were an integral part of childhood, even if we are strewn all over now. And then the usual regular trips of shopping, what with the Aadi and Ramzan sale going great guns, you are but drawn into the whirlpool. Loaded with bags of knick knacks and goodies, set forth on the eventual train journey to Pune.
The strange phenomenon that happened to manifest was that, the place where I propose to land in, is always forewarned and the rain gods, relocate. So was it in Pune and Goa.
Saturday, February 23, 2013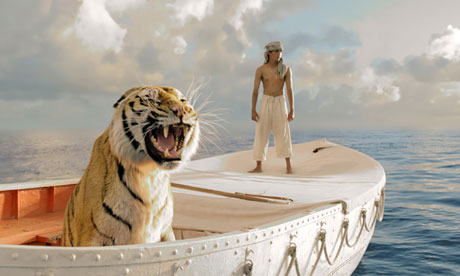 A movie at the big screens, Cinescapes, after a longish while. And it was so worth it. The plan to go on the New Year's eve wasn't entirely intentional, but well, was a nice way to wrap up the year, with just family. As always the crowd here, (yes it does make for interesting watch, in any cinema hall, i guess, here it's a notch higher!) never fails to amuse and entertain me. It was an eclectic mix!
The glasses donned, you slip into this ethereal world, where you cease to breathe for a while, lest you startle the characters or the moments unfolding on the scene. It is undeniably a breathtakingly beautiful work of art. I think it did more than justice to the book, it was like a tale that has been sprinkled with dusts of shimmering magic.
I was left wondering as I walked out, how many would have really loved it, the way I did. I don't think it is a movie for everyone. Not all would have been touched or stirred by this small yet exquisite world, built around leaping tigers and flying fishes. But I truly was. It would definitely appeal more to those who have grown up with pets around, or who rather have this instinctive bonding with the zoological species, while to others it may come across as a lengthy psychedelic documentary sorts. Mebe.
(Started writing the review, what seems to be ages back, and had almost given it up, but then continuing with it, because some things tend to fade away with time, things which you would like to hold on, if possible. And written word just about manages to do that.)
And as an afterthought loved the music/background score, (ofcourse, you may say), but surprisingly wasn't too impressed by the 'famed' lullaby; it somehow just didn't strike a genuine chord. Came across as more of a laboured effort, especially the lyrics, didn't seem to fall or gently caress you as sweetly as it should have! Judges at the Oscars thought otherwise I guess.
Paradise
by Coldplay was hummable and likeable though.
And so, 2013 did manage to sneak in, and before you know its gonna be March. It's been personally a hectic year, would think one that whizzed by, and looking back, wasn't a bad one! We learn, forget, re-learn a zillion things, through the years, as we allow ourselves to be etched and chiseled, a process that makes each individual, fascinatingly interesting (most of the times!), as they allow themselves to emerge or unfold, every single day, into an entity entirely new, if they are fortunate enough!
And so my heartfelt wishes, that the journey of self discovery, this year be, as enchanting and as engaging, as Piscine Patel's was, to all of you out there! :)